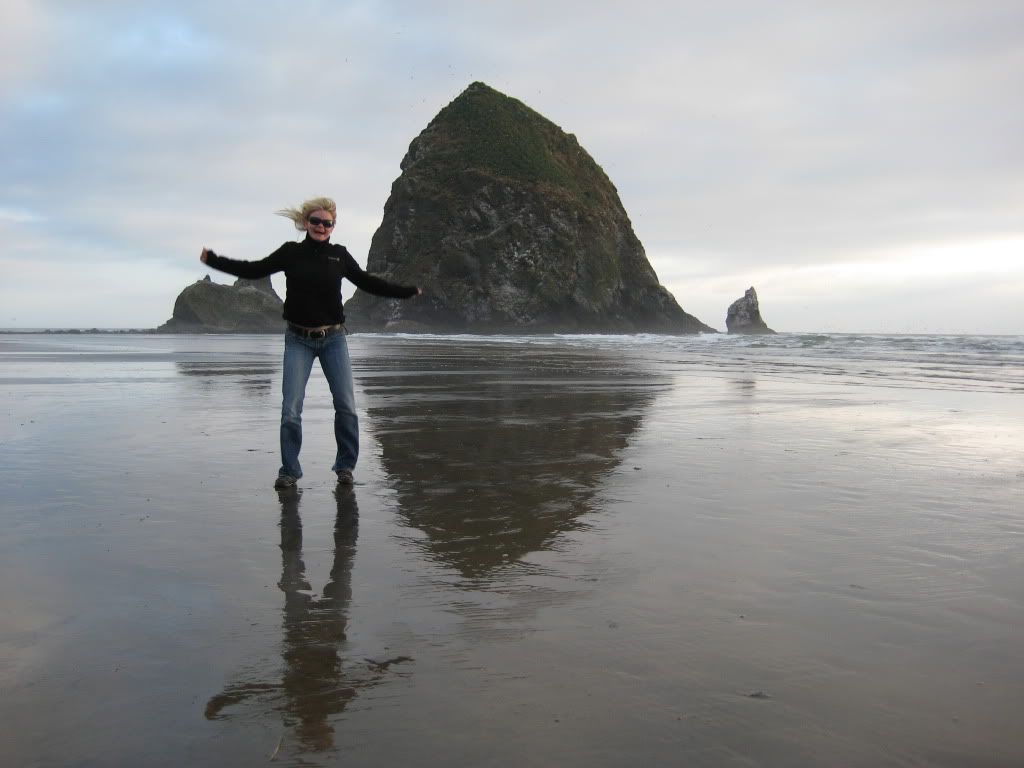 Jumping in front of Haystack Rock
Cannon Beach, Oregon
July 2008
I've always found beauty in gray, drizzly skies. Landscapes fade into the distance. Cities glisten. But it's the coastlines that truly shine, coming to life in moody soft focus.
When we pulled into Cannon Beach after a seven hour drive up the 101, we were instantly immersed into a deep gray world, despite the July date on the calendar. Gray skies, threatening rain, gray seas, speckled with white capped waves, and a massive gray monolith, known as Haystack Rock, greeted us on arrival. And we were wowed.
While the weather may not have lifted during our three-day stay, our spirits definitely did. Days were spent hiking the rocky coastline, wandering the charming streets in town and just watching the waves envelope wayward rocks in the sea.
On our last morning in town, we made our way to the beach at sunrise. It was here Cannon Beach's true colors showed themselves in the shallow tide pools of Haystack Rock. The gray sea retreated to reveal a vivid display of orange and purple starfish, iridescent mussels and bunches of burgundy seaweed. This usually submerged scene provided a colorful discovery around every jagged edge. We explored with child-like enthusiasm until the tide began to return, tucking this stunning secret back beneath the waves.
For us, each gray day in Cannon Beach was a peaceful retreat, a photographer's dream and a traveler's treasure. And, on the rare occasion we experience a mild, drizzly day at home, I realize just how ready I am to return.
Where to Rove in Cannon Beach, Oregon:
Haystack Rock Tide Pools
Cannon Beach, Oregon
July 2008