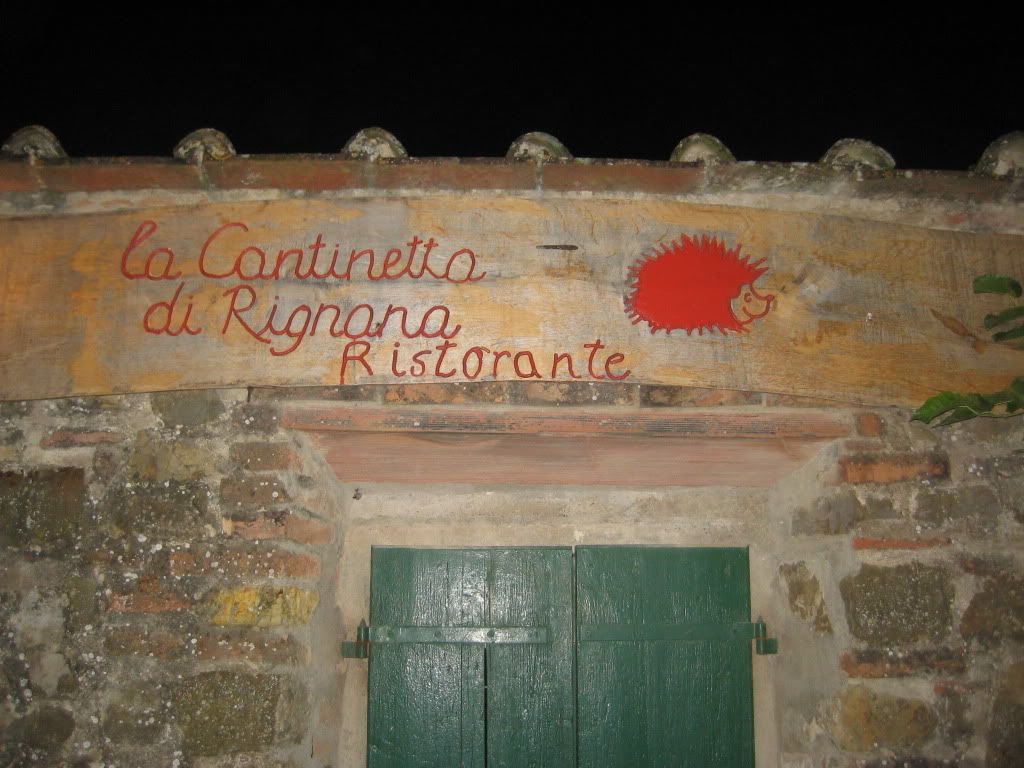 Before spending time in Tuscany, when I imagined dining in the Tuscan hills (which I often did), I envisioned al fresco meals with candle-lit tables near ancient stone dwellings with rows of deep green cypress trees lining the horizon.
After reading the review for La Cantinetta di Rignana in my ever-present Frommer's book, I knew I had found my authentic Tuscan dining experience. Next, we just had to get there.
A rigorous day of sight-seeing in Florence and a bout of Italian rush hour traffic had left us famished for dinner and for the familiar, relaxed Tuscan countryside. We couldn't wait to get back to our peaceful, cypress-lined paradise that I had started to regard as home.
Once back in Greve in Chianti, we followed the somewhat daunting directions in the book that went something like this: Exit Greve to the east. Drive past Montefioralle, follow the one lane road up a steep hill, through several switchbacks until you get to a fork in the road. A simple sign for La Cantinetta di Rignana will guide you left down an unmarked rock road. Follow 3 miles (in the dark) until you reach a tiny stone hamlet perched on the hillside and La Cantinetta di Rignana.
We wandered through the marked entrance and into a place straight out of my dining daydreams. Once seated at a cozy, candle-lit table, wine was ordered along with a house speciality, "carciofi" (artichoke hearts). The appetizer consisted of ten artichoke hearts that were easily the size of small plums. But, after the first one, the next nine didn't stand a chance. Grown on the property, each one was infused with notes from the native soil and air and sufficiently soaked in inky balsamic vinegar. The flavors of Tuscany lingered in every layer.
As we dined on fresh regional entrees of cinghiale ravioli, a well-fed cat hunted in the moonlit olive grove adjacent to the restaurant. A snail on the sill lazily made his way out the partly open window into the night. And soft lights flickered on the neighboring hillsides.
Al fresco perfection achieved, we left our new found find behind and took the long way back to Greve.