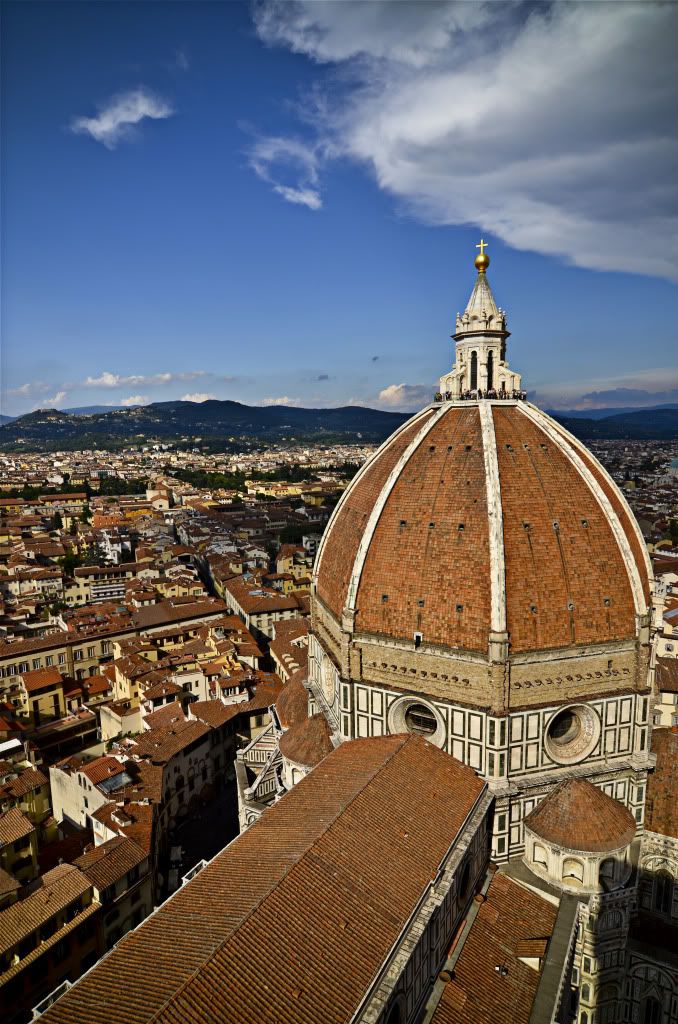 Duomo
June 2011
Photo: Scott Clark
We had visited Florence once before in 1999, newly engaged and deeply in love with Italy. We were wooed, big time - by the food, by the deep red wine, by the endless, winding, cobblestone walkways that only led to more wonderfully Italian things.
On our recent day trip to Florence on day four of our Tuscany stay, we were already so spellbound by the Tuscan countryside, the "big" city seemed not quite as grand as it had been the first time. And while Florence is still more beautiful and more captivating to me than most other places I've visited, when it came time to go, leaving the traffic congestion, tour groups and crowds behind for the much greener pastures of Chianti Country to the south was easy to do.
But our Florence wanderings did yield some familiar finds and some new discoveries. Our favorite meal of all time took place on our first visit to the city in a tiny trattoria not far from the Duomo. The path to the pasta bliss was burned into my memory and we found the very place exactly where I remembered it be. Too late for lunch and far too early for dinner, we could only gaze inside at the late lunchers, worn wooden tables and dwindling dishes of lightly sauced pasta and hope to remember a bit more of what will always be a dear memory for us.
A Missed Opportunity
We then set out to find a quick bite before what would be hours of walking. I Fratellini's cheap and delicious sidewalk stand served up simplicity along with a novel dining format. Sandwiches, cold sodas and sidewalk seating (literally sitting on the sidewalk), made for a perfect pranzo, pronto.
After walking through the leather goods mecca of San Lorenzo Market and through the Uffizi area, we arrived at the Arno. The late summer afternoon light painted orange and yellow streaks onto the buildings while an approaching shower shadowed sections of the city. As we reached the Gold Bridge, we noticed a shiny, massive collection of locks latched together on chain. It was nothing more than a photo opp to us at that moment, but we later learned the love-laced meaning behind the locks.
Arno Locks
June 2011
Photo: Scott Clark
Storm Clouds
We walked slowly back to car, surely retracing some of our footsteps from a weekend stay so long ago. A little older, a little smarter but a lot like our former selves, we left Florence for a second time. But this time, we knew exactly where we were headed and we couldn't wait to get back there.
Thanks for reading! More on the lovely locks tomorrow.