When planning a winter trip, snow, ice and cold are extremely low on my wish list. I aim to go somewhere with an average temperature at least twenty degrees warmer than our hometown of St. Louis, MO. Sedona, Arizona seemed like a safe bet. It's in the middle of the desert, offers endless places to hike, dine and explore and it has an average snowfall of a mere nine inches per year. Sold.
When we arrived in Sedona two days after Christmas in 2009, in a holiday haze, it was dark - desert dark. As we approached town, we could make out silhouettes of sleeping giants when the headlights hit them on turns. It's was an incredibly tantalizing sight and we wanted more.
The next morning, we were not disappointed. Coming from the flat, green, corn and soybean-covered Midwest, the Sedona landscape was foreign and fantastic. The sleeping giants from the night before awoke as burnt orange, cream and brown rock formations. They provided a buffet of spectacular views in every direction. We were in absolute awe, enjoying every last morsel of the surroundings until we got wind of the approaching cold front.
Knowing snow in Sedona is a rare event, we set out to hike expecting a chilly but dry day. However, our expectations failed to line up with the weatherman's. As we pulled into the parking lot for our second hike, Doe Mountain, the sky was filling with flurries.
The flurries quickly turned to fluffy flakes and proceeded to playfully smack us in the face as we made our way up the trail to the top of the mesa. About halfway up I was struck by the realization that this was actually a perfect day for hiking in Sedona. The trail was deserted, aside from a few hikers on their way down. The landscape was covered in snow, a truly unique state for this dry terrain. And the sky, peaks and plateaus provided endless opportunities for our breath to be taken away. And it was with every step.
The snow in Sedona gave us more than just incredible photo opps. It gave us time alone with Sedona, time to see its hidden, softer side, and time to fall in love with the place. I know we'll be going back, probably in a more temperate time of year, but I'll be hoping for that impossible dusting of snow to bring back a little of the wonder from our first snowy visit.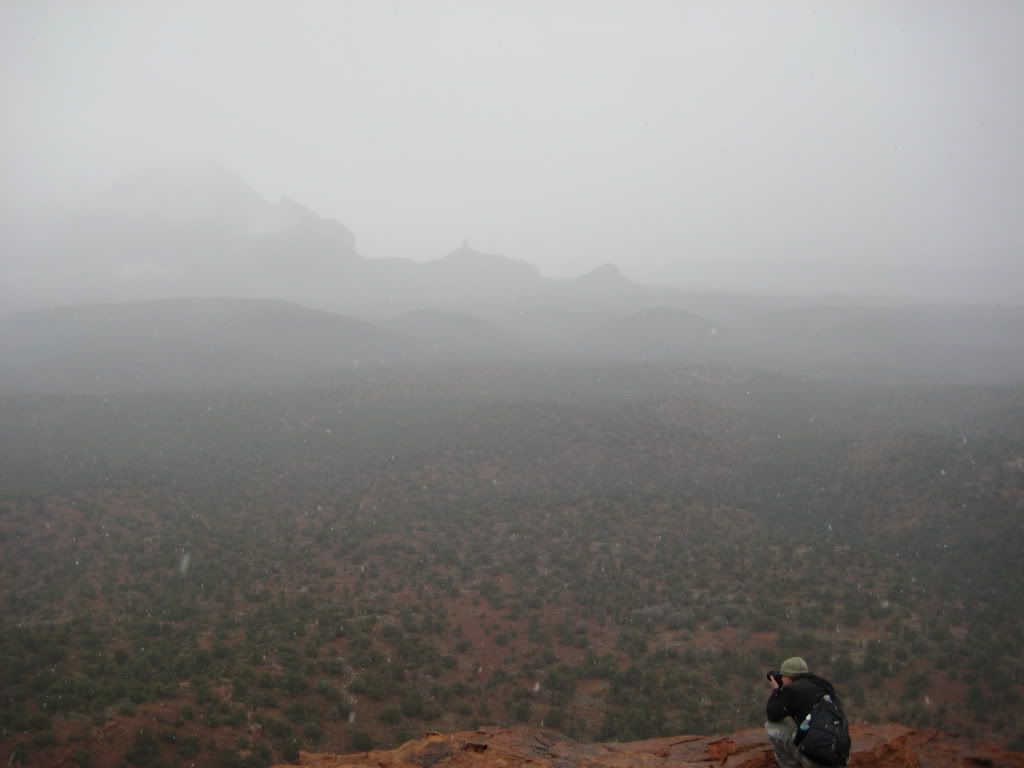 Scott in Snowy Sedona
December 2009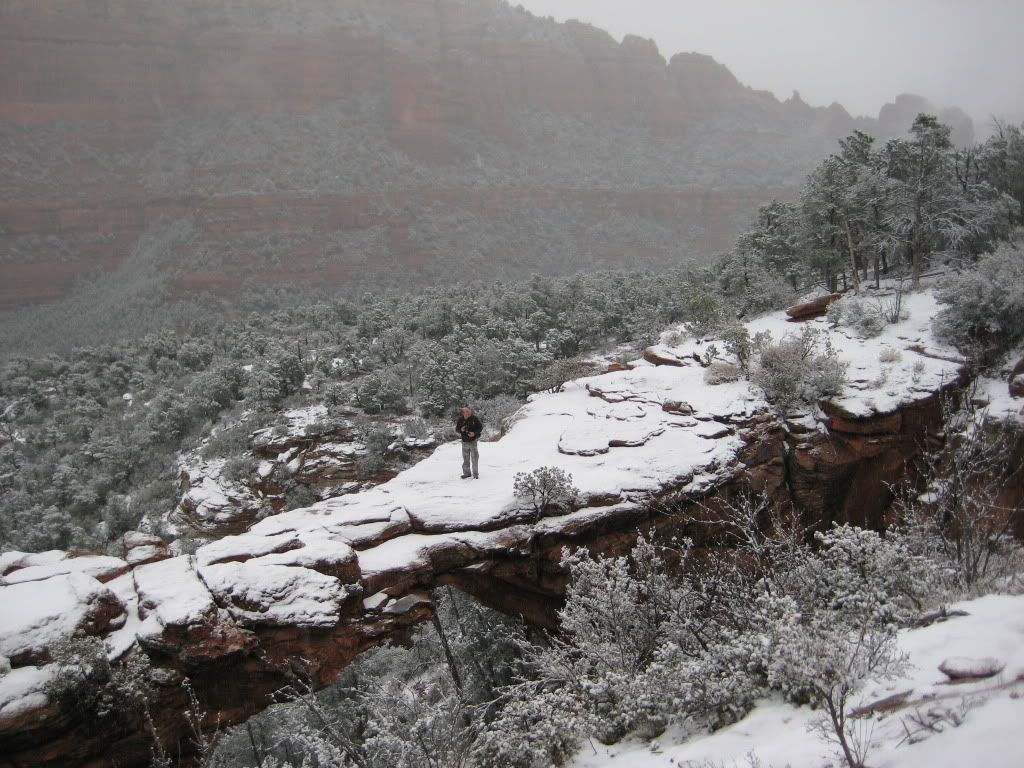 Scott standing on Devil's Bridge
Sedona, AZ
December 2009